Elite Proxy Switcher (Latest version: 1.29)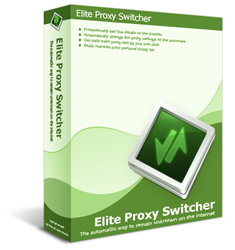 Overview: Elite Proxy Switcher can help you to visit the blocked websites and protect your Internet privacy.
How it works: Elite Proxy Switcher changes your IP using a proxy so that the website regards the proxy's IP as your IP. Thus your real IP is hidden.


[registered users download it here]
Elite Proxy Switcher Main Features
Proxy Checker: professionally test the details of the proxies.
Proxy Switcher: quickly change the proxy settings of the browsers.
Proxy Downloader: get daily fresh proxy lists by just one click.
Proxy Manager: easily maintain your personal proxy list.
Elite Proxy Switcher Screen Shots
Elite Proxy Switcher Professional
EPS Professional is more powerful than the free version.
* Only after buying our
proxy list
service, you can download the proxy list.
We support the major payment methods: PayPal (International), Alipay (China), Webmoney (Russia) and so on. Please goto the order page to select the payment method that you like.



Notice that EPS Pro does not include the proxy list service. If you need proxy list rather than the software, please buy proxy list instead. Both EPS Free and EPS Pro can download proxy list from us.
Make sure you have read our Elite Proxy Switcher Professional End User License Agreement before you purchase Elite Proxy Switcher Professional. If you have any problem about Elite Proxy Switcher, please read the FAQs first. If you didn't find the answer, please contact us by email.
Here is a review from 3d2f.com about Elite Proxy Switcher.