Buy Proxy List Service
After buy our proxy, you can use either Elite Proxy Switcher
free edition
or
professional edition
to download the proxy list. Our proxy list is updated every
30 minutes
. You can also use the API URL to get the proxy lists.
* Trial List: You can try the HTTP 3000 List for 3 days. It only costs $2.95.
How to Download Our Proxy List
1. Get Proxy List by Our Free Program (Windows)
a) Please install and launch the free program Elite Proxy Switcher.
b) Then click its menu File > Download list.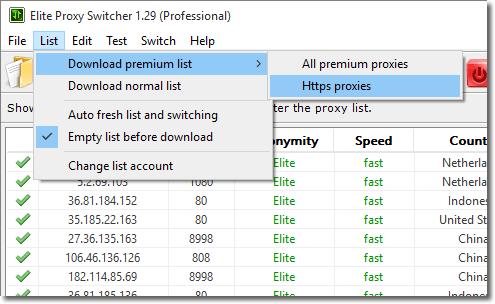 2. Get Proxy List by API URL (All System)
The API is just a link (URL). You can open that API link in the browser or your own script/program to get our proxy list.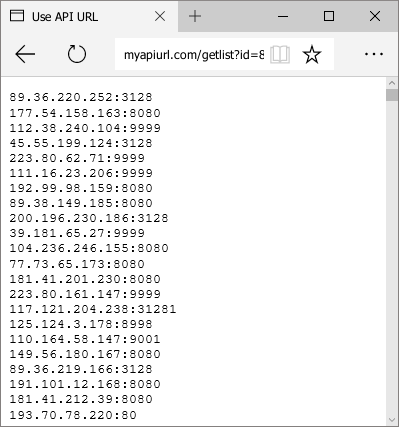 Proxy List Statistics
Our proxy lists are updated every 30 minutes. We add new working proxies into the list and remove the dead proxies from the list every 30 minutes. The working proxies are remained in the list.
Date
Working
Https
New
Elite
Anonymous
Transparent
Total
HTTP 6500
2023-11-29
491
167
2%
56
307
128
4194
2023-11-28
501
149
6%
73
309
119
4577
2023-11-27
487
185
4%
69
308
110
6369
2023-11-26
529
183
5%
69
314
146
5861
2023-11-25
528
200
7%
73
318
137
6403
Average
507
176
4%
68
311
128
5480
HTTP 3000
Average
~ 234
~ 81
~ 4%
~ 31
~ 143
~ 59
~ 2529
HTTP 1000
Average
~ 78
~ 27
~ 4%
~ 10
~ 47
~ 19
~ 843
* The data of HTTP 6500 List is exact. The data of other proxy lists is estimated.
Country Statistics of the List HTTP 6500
All
4058
EU
361
US
2900
CN
179
ID
85
DE
63
IN
59
SG
50
RU
48
CA
44
TH
32
FR
30
BR
30
VN
30
TR
26
HK
26
CO
25
BD
24
JP
23
EG
23
KR
23
GB
18
NL
17
AU
15
KH
14
MX
14
UA
13
TW
11
Oths
236
* The table is updated every hour. It was last updated at 29 Nov 04:40 GMT.
Why Buy Proxy from Us
You can easily get and test our daily proxy list by just one click
You can get the preferential price in the industry from us
You can get more working and anonymous proxies in our proxy list
FAQs of Buying Proxy
What's the type of your proxies?
Our proxies are public http proxy which we collect from Internet so they are unstable. But they are very cheap considering one private proxy charges $1+ per month. Our proxies are suitable for the users who need a lot of proxies but use each proxy for only several hours.
Must I buy the software if I only want to buy proxy?
No, you can use our free software to download the proxy list you bought.
Can I buy only US proxy or Europe proxy?
No, you cannot choose the country. About 30% of our proxies are US proxy and 10% are Europe proxy.
Can I get more proxies if I buy two proxy lists?
No, you will get the same proxies.
Are the proxies exclusive for me if I buy the proxy list?
They are not exclusive. We provide the same proxies to other users.
How do you update the proxy list?
We update the proxy list every 30 minutes, adding new working proxies into it and removing dead proxies from it. The working proxies will be remained in the list.
Do you provide completely different proxy list every day?
No, we remain the working proxies in the list. However most proxies die within several hours. They won't be in the list for long.
Where is the Premium List?
Recently, the quality of the Premium List (updated every 5 minutes) is NOT better than the Regular Lists (updated every 30 minutes). Thus we don't list it here. However, you can still buy it. We still update it.
About Buying Our Proxy List
Please make sure you have read our Proxy List Service Agreement before you purchase the proxy list service. If you have any problem about our proxy list service, here are more FAQs about buying proxy. If you didn't find the answer, please post your problem in our forum or just contact us by email.